Rite Aid Miracle Balloon Campaign Raises over $93,000!
Rite Aid and Walgreens cutover stores have spent the past 7 weeks celebrating 25 years of making miracles for Children's Miracle Network local beneficiary, Children's Specialized Hospital. From March 24th – May 11th, Customers were able to purchase a Miracle Balloon to benefit CMN and receive $7 worth of coupons in return!
Above all, Rite Aid and Walgreens Store Associates and Pharmacy Staff really used their creativity throughout the campaign. Stores chose to create raffle baskets as an extra incentive for Customers to make a donation. A special shout out to store 10526 in Phillipsburg, NJ for creating this M&M raffle swag-bag, perfect for all chocolate lovers!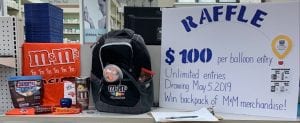 We are so excited to announce that the 2019 campaign raised $93,641.60 for the kids!! The #1 Fundraising store for Children's Specialized Hospital is 10414 in Wayne, NJ raising over $4,760! Thank you to the generous Associates, Pharmacy Staff and Customers who continue to make miracles happen for local children in need.