WESTFIELD DANCE MARATHON RECEIVES THE 2022 BEST HIGH SCHOOL DANCE MARATHON AWARD
This year's winner of the Best High School Dance Marathon Award is Westfield Dance Marathon, a partner of Jagathon at IUPUI. This award goes to a program who has demonstrated excellence in fundraising, year-round programming, and Dance Marathon event execution.
This year, Westfield Dance Marathon broke the $100,000 fundraising mark, representing a 25% YOY fundraising increase in just their 6th year as a program. Throughout the year, this dedicated group of students engaged with a variety of community partners, hosted multiple events including a battle of the bands competition, and posted daily on their social media pages to keep their community engaged. The program also created their own fundraising guides to educate students on best practices for peer-to-peer fundraising and using DonorDrive. The program also found great success with recruitment, with over 300 students, faculty, parents, and families attending their event. Miracle Network Dance Marathon recognized Westfield Dance Marathon at the Dance Marathon Leadership Conference held in Atlanta, GA July 21-24, 2022.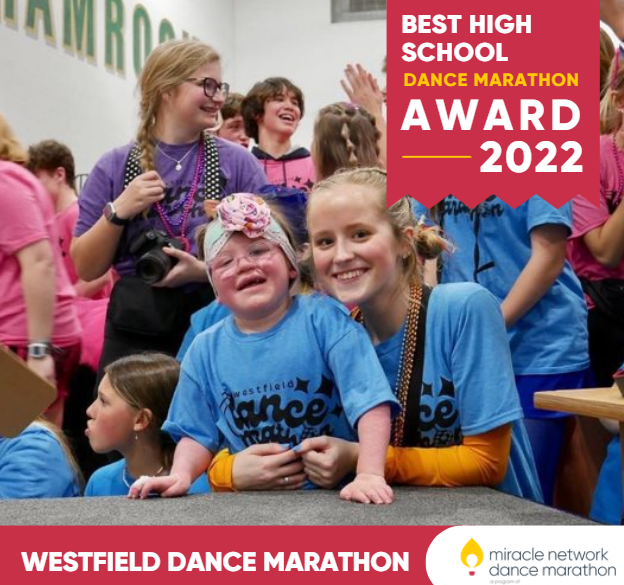 Miracle Network Dance Marathon is an international movement, involving over 400 colleges, universities and K-12 schools across the United States and Canada that fundraise for their local member hospital of Children's Miracle Network Hospitals. These students work tirelessly throughout the year to raise funds one dollar at a time by making the ask to family and friends. Their hard work culminates in a 6–40-hour celebration on their campus or virtually, where participants have the opportunity to rally together as a community for their local member hospital of Children's Miracle Network Hospitals. Students involved in Dance Marathon gain valuable skills in fundraising, peer management, delegation, and philanthropy. Miracle Network Dance Marathon programs have collectively raised more than $300 million since 1991.