Northern Elite Gymnastics & Cheer – 10 Years of Miracles!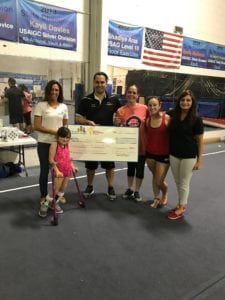 This past Sunday, Northern Elite Gymnastics and Cheer hosted their 10th Annual "Miracles" gymnastics demonstration and fundraiser for Children's Specialized Hospital.  While final totals are still being tallied, we are proud to announce Northern Elite will surpass $200,000 in donations since their first event in 2008!
Northern Elite Gymnastics and Cheer owner, Noreen Cacchione, first visited Children's Specialized Hospital with her staff and gymnasts back in 2008 when USA Gymnastics nationally partnered with Children's Miracle Network Hospitals. Nicole Hudson, Director of Fundraising and Operations at Children's Specialized Hospital Foundation invited all of the local USA Gymnastics Gyms to be a part of the tour that year.  Northern Elite was the only one that came.  The intimate experience they had that day created a bond that has grown over the years.  So much so, that when USA Gymnastics no longer partnered with Children's Miracle Network Hospitals on a national level, Northern Elite continued to be a champion for Children's  Specialized Hospital.  Noreen, as well as coaches Sergio and Jackie Estrada, have been true miracle makers for the past 10 years.
The event consists of wonderful performances by all levels of gymnastics and cheerleading teams and culminates with an amazing tumbling demonstration. The day also features a raffle, silent auction, bake sale, t-shirt sale and more!
Children's Specialized Hospital patient Taryn and her mom Kathy shared their experiences with the crowd of over 300 spectators at the "Miracles" event. Taryn was diagnosed with a form of cerebral palsy shortly after birth. This diagnosis prevented her from walking. At just 5 years old, Taryn underwent a surgery to loosen her tightened ligaments in hopes that she would be able to walk. She was transferred to PSE&G Children's Specialized Hospital in New Brunswick, NJ for six weeks of intense inpatient therapies. Taryn now walks with the assistance of crutches and continues to get stronger!  She and her mom Kathy are now tireless advocates for Children's Specialized Hospital, a role they have played for years since Taryn was the New Jersey Ambassador for Children's Miracle Network Hospitals in 2015.  They attend many community events to raise awareness for Children's Specialized Hospital and the families we serve.
Special thank you to Noreen and her family including husband Tony and daughters Mary Kate and Maggie, Jackie and Sergio Estrada and all of the other volunteers who helped make this a successful event. In addition we would like to recognize the sponsors: Natural Image Skin Center, Ronetco Supermarkets, Stepping Stones Montessori School, Morris County Stationers, The Bauer Family, Trade Zone South and Grander and top sponsor Benjamin Moore for supporting our kids!