Kickin' it back with the NY Red Bulls!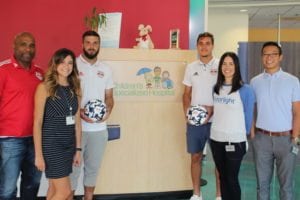 On Monday, September 25th, members of the Starlight Foundation, professional soccer team, NY Red Bulls' and  Children's Miracle Network Hospital partner, Speedway spent the day at Children's Specialized  Hospital! Our patients received autographed Red Bull's swag and even got to play a pick-up game of soccer with some of the players!
Special thank you to our favorite NY Red Bulls' sponsor, Speedway for your amazing contribution into making this a super fun day for our kiddos.
We look forward to an amazing weekend of fundraising from Oct 27-Oct 29th! Head into your local Speedway convenience store and give back to your local Children's Miracle Network Hospital!