Patrizia's Miracle Night Raises $70,000 for Children's Specialized Hospital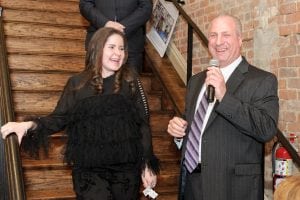 On March 5, 2018, Patrizia's of Red Bank, NJ hosted their fourth annual "Miracle Night" for Children's Miracle Network Hospitals and raised over $70,000 for the local beneficiary, Children's Specialized Hospital.
Lou Maschi, one of the owners of Patrizia's has been involved with Children's Specialized Hospital for ten years, through Children's Miracle Network Hospitals partnership with IHOP. Maschi, a former owner of the IHOP in Brick, NJ and has held the distinction of being the highest fundraising IHOP in the country for several years.
"I have seen first-hand what Children's Specialized Hospital does and how successful they are at creating miracles for children fighting life threatening illnesses," said Maschi. "The kids are the true inspiration. They remind me everyday that anyone can rise above all the challenges, no matter what they are."
Four years ago, his affiliation expanded to the Red Bank community with a dinner and silent auction fundraiser at Patrizia's. This year, a crowd of 120 people came together, including one special young lady, Kaitlin Clutter.
Kaitlin is Lou's inspiration for all of his fundraising efforts. Lou met Kaitlin at 8 years old and recently lit a candle at her sweet 16 birthday party.  Kaitlin is a longtime patient of Children's Specialized Hospital, who she credits for her learning to walk, despite her diagnosis of Spina Bfida.  Kaitlin's parents were told by doctors that she may never walk or talk when she was born.  Kaitlin has defied all of the odds with the help of Children's Specialized Hospital.
"We are so lucky to have a partner like Lou," said Nicole Hudson, Director of Fundraising and Operations, Children's Specialized Hospital Foundation. "He and his entire family have made the Hospital a part of their family for the past 10 years, and we couldn't be more grateful for his support."