LIVE From Radiothon!
Did you hear Abigail's story on air?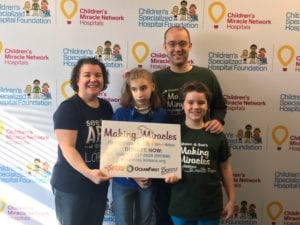 If you want to help kids like Abigail, our volunteers are standing by!
Call 732-237-9626 or donate online here!
The parents grew frustrated to hear the same advice being told to them about their only daughter.  They both knew she was a fighter, and refused to listen to any person or doctor say that Abygail wouldn't make it.  Her parents Tina and Steven knew she would prove them wrong. They were willing to move on and find anyone who was willing to listen and help their daughter thrive.
Having a background as a preschool teacher, Tina couldn't help but notice Abygail's inability to hit her typical milestones.  At six months of age she still wasn't holding her head up, rolling over and hadn't even begun to sit up.  The infant was not capable of supporting her weight, suffered severe muscle weakness and tightness, and choked even when she wasn't eating.  All of the experiences frightened the new parents who had no prior experience.  Despite that, their intuition told them there was something more to Abygail's rigid posture than just colic; the condition doctors often told them was at the root of their daughter's issues, which they said would eventually work itself out.  Early interventions of physical and occupational therapy helped in deciphering the bigger picture of Abygail's struggles, but that was just the beginning.
It wasn't until Abygail suffered a seizure at the age of two when doctors were able to pinpoint everything happening with Tina and Steven's little girl: vocal epilepsy, apraxia with dispraxic speech, autism spectrum disorder and Cerebral Palsy., a loaded diagnosis the family received when Abygail was four years old.  To have one of these conditions is difficult enough, but to have all four, the family knew they were up for a challenge.  Tina and Steven looked to the guiding light of Children's Specialized Hospital in Toms River for help.    There, she was referred to Dr. Allison Smoller and became a patient of occupational and physical therapy as well as speech therapy with Chana Juravel.
Dr. Smoller has been treating Abygail since May of 2011.
"Abby came to me with a very complicated medical history," said Smoller.  "When I first met Abby, she was significantly echolalic, and engaged in many repetitive, self-stimulatory behaviors."  This often manifested in phrases or sounds Abygail heard from another person and repeated; a symptom common with autism and other mental disorders.
Smoller explained that due to Abygail's therapies at Children's Specialized Hospital, the now nine year old is using more varied speech and can better interact with other children.  She has made significant gains with the use of an ipad during her speech therapy sessions.  Laughing, Smoller said, "She is able to navigate that device better than I can!"
"Miss Chana," as Abygail calls her, is Abygail's speech therapist, and has worked with Abygail to teach her how to express what she needs and wants, and how to say something was "not nice," all things that are difficult to communicate due to the autism diagnosis.  Starting with a child who was completely non-verbal, she now speaks full sentences and can better express feelings.
"Abby has a special place in my heart," said Juravel.  "I'm very proud to be a part of all her accomplishments."
Her mother explained speech was a major obstacle her daughter still continues to overcome with the help of her therapy.
"We are so grateful to Miss Chana," said her mother, Tina.  "She gave our daughter a voice.  She was hurt two times at school and was unable to tell us why or what happened. Abygail has made huge steps forward and we thank Miss Chana for that."
Physical and occupational therapy have greatly improved Abygail's sensory and fine motor skills.  In a typical session she can be seen listening to music, feeling globs of Play-Doh in between her fingers (an activity that is a sensory challenge for her) riding a bicycle to strengthen her weakened right side, an exercise focused on working the Cerebral Palsy atrophied muscles or doing her favorite activity—"the swing."
Abygail's proud parents watched their always eager and determined little girl, go from tripping to walking with confident strides and, when prompted by her therapist, effortlessly crawling through a tunnel; two feats Abygail couldn't do without the support of everyone at Children's Specialized Hospital—a place the parents say not only understood their daughter's outpatient needs, but medical and social ones as well.
"It is because of the amazing doctors and especially Children's Specialized who tell her that she 'can' and 'will'  achieve every goal we set forth to conquer with Abygail," Tina said.
Abygail has spent her entire life defying the odds.  She continues to inspire everyone she meets, and even manages to teach her parents new things everyday.  Her initial prognosis is one that left many doctors defeated before even trying to help—but Children's Specialized Hospital was different, and saw the potential in Abygail that Tina and Steven knew she had.
Abygail's parents continue to encourage her to live her life to the fullest and also teach their six year old son, Steven not to judge others.  The siblings share a very close bond.  They hope Abygail lives her life to the fullest potential and is always known for the person she is; rather than what she has, something that doesn't seem to be a problem for her.