Extra Lifers game with Children's Specialized Hospital patients!
Halloween night was made extra special for the kids at Children's Specialized Hospital, when the Extra Life gaming crew stopped by!  Three of our Extra Life leaders, Guild Vice President, Anthony Sytko, Guild Secretary, Eric Braxton and Guild member, David Smith brought games and goodies to the Children's Specialized Hospital rec room.  Throughout the night, we played video games, board games and card games!  Not only was this a fun event for our patients, but it got our Extra Lifers geared up for their big marathon this coming Saturday.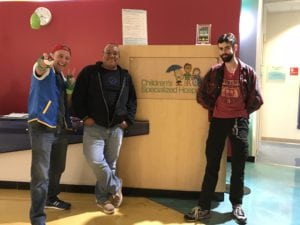 Currently, we have 585 gamers who have pledged to game all day on Saturday in support of Children's Specialized Hospital.  They have already raised $33,000, toward their $150,000 goal to fund an amazing piece of technology called Vocera, which allows clinicians to communicate hands free and respond more quickly to emergent situations.  Like any marathon, gamers collect pledges for their dedication to our kids!  Fundraising continues until the end of the year, but most happens on this magic Extra Life Day.  You can still join and be a part of making a miracle at www.extra-life.org!  You can play any game, any where on any platform.  Join us!
Thanks again to Anthony, Eric and David for making Halloween extra special for our kids!  Happy almost game day!