As if we needed an excuse to get a sweet treat. Dairy Queen Miracle Treat Day is coming!
Make sure to mark your calendars for July 25th to stop by your local DQ and get your treat on. While you're there, you can also donate to Children's Specialized Hospital!
The DQ system's annual Miracle Treat Day on July 25 allows participating locations to donate $1 or more from every Blizzard® Treat sold to benefit Children's Miracle Network Hospitals local beneficiary, Children's Specialized Hospital.
There is also still time to also purchase a paper Miracle Balloon to publicly pledge support and receive $3 or $5 in discount coupons good for food or drink on their next visit.
Dairy Queen has been a proud partner for many years and has helped tons of kids like Matthew.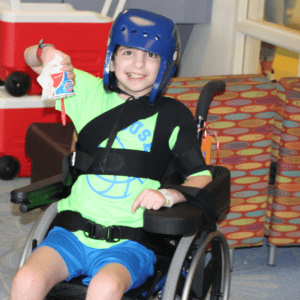 Ten year old Matthew of Wayne, NJ has the most wonderful sunny and optimistic outlook, which is almost impossible to believe, considering that just several short months ago he suffered a traumatic brain injury as the victim of a horrible drunk driving accident.
While on their way to lacrosse practice, Matthew along with his mother, Lori, three of his siblings and a friend, were struck by a drunk driver while at a traffic light, pushing them into other vehicles. Knocked unconscious at the scene, Matthew was rushed to the hospital where he was put into a medically induced coma for three weeks. As he was coming out of the coma, Matthew's parents needed to arrange for his care and rehabilitation. At the recommendation of his doctors, his family chose Children's Specialized Hospital.
 "We didn't know where to begin, we had never been down this road before," Matthew's mom explained, "but from the moment we arrived our experience was phenomenal."
During Matthew's four months at Children's Specialized Hospital, Lori described his therapy as, "incredibly hard work, but work he always did with a smile." He received highly specialized care from four primary therapists who never let him quit.  But it wasn't all work for Matthew. He loved the game room and playing Uno and SkipBo. He and his family are especially grateful for the friends they made at Children's, friends they visit with and are still in touch with today.
To view a list of participating DQ Stores visit: https://www.miracletreatday.com/
Join us on July 25th to celebrate #MiracleTreatDay and help more kids just like Matthew!