Young Professionals' "Night Out" Raises Funds for Kids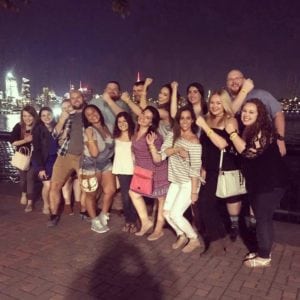 Young Professionals for the Kids (YPFTK) hosted their first Night Out for the Kids on Saturday, September 23, in Hoboken, NJ and raised nearly $400. The Young Professionals for the Kids group was established in 2017 as a way to offer social networking opportunities for young and emerging professionals while also raising funds for the hospital.
Members have diverse backgrounds ranging from former Miss America local titleholders, alumni of Dance Marathon programs and Greek life organizations to individuals who are new to the area and looking for a way be involved in their community while meeting new friends.
Special thanks to the participating establishments for their support: Mills Tavern, Black Bear, Tally Ho and Wicked Wolfe Tavern.
YPFTK will host an Ugly Sweater Night Out in Hoboken on December 9. To stay up to date on all of YPFTK's happenings, please contact Morgan Bocciolatt at mbocciolatt@childrens-specialized.org to be added to our e-mail list. To join YPFTK, visit www.tinyurl.com/ypftkmember.