Miracle Kids: Celebrity Series
Micah Fowler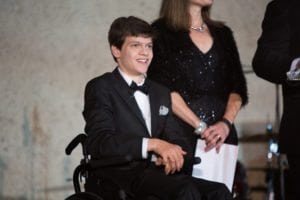 Have you watched ABC's Speechless? If you have, you're surely a fan of JJ DiMeo played by Micah Fowler!
Did you know that Micah Fowler is a former patient of Children's Specialized Hospital? Here is a his family's story:
We first came to Children's Specialized when Micah was just two years old. Diagnosed with cerebral palsy at 14 months, we were overwhelmed and full of uncertainty. Members of the staff took us under their wings and guided us through the process of evaluation, planning, and implementation of a care plan that would make a huge difference in Micahs life.
When Micah was first diagnosed, doctors told us he would have to use a permanent feeding tube. Thankfully, Micah's mother Tammy refused this idea, determined to see him eat solid food normally. We watched as Micah's first speech therapist took graham crackers, crumpled them to dust and added them to his puréed food so that he would learn to handle texture. Gradually, over time, they made the crumbs larger and larger, until he moved to solid foods. Today Micah eats anything he wants! Oftentimes he eats more than we can believe! Food is one of his favorite things. He eats Indian and Mexican and Chinese and Thai and, well, you get the point.
Because of the determination and skill of his physical therapists, Micah also learned to walk. He first used a walker, and later quad canes. Micah and his physical therapist's relationship was one of very hard work and determination. She was tough and didn't take any of his shenanigans! We were overjoyed.
Because of the determination and skill of his occupational therapists, Micah is also able to dress himself, something that sounds so simple but required years of patient training and hard work. Again, we were overjoyed.
It didn't end there. When preparing for school, even preschool, Children's Specialized was with us each step of the way. And this was especially evident when it came time to get a wheelchair. From his first manual wheelchair, through his latest motorized speed wagon, the technology experts at Children's Specialized guided us all along the way. Their understanding of technology for special needs children is second to none. When you're about to commit to a $20,000 piece of technology, especially a piece you may only be able to get once, you need to make sure that you get it right the first time. Children's Specialized Hospital has the team, resources, expertise and commitment to make sure it's done right.
Looking back at our time spent at the hospital, we realize that the person Micah has become would not have been possible without the wonderful people of Children's Specialized Hospital. We are so very grateful to every member of that amazing team that came together to help our son. The young man Micah is today is as much a product of Children's Specialized as he is of our family. When you watch Speechless I hope you'll remember that.
Every member of Micah's care team at Children's Specialized exhibited tremendous dedication to seeing him grow and improve in every area of his life and worked hard to coordinate a well-rounded care plan that incorporated the different disciplines of therapy. We are so grateful to each therapist who, over the years, poured their hearts and souls into seeing Micah become stronger and more independent.
The following are Micah's words that he wanted us to share:
I'm so thankful that the therapists at Children's Specialized were able to work with me for many years so that I could learn to speak, eat regular food, and learn to walk with a walker. My journey at Children's Specialized is just one of many lives they touch every day.
I truly hope every other kid with CP in our country has access to an amazing team of therapists like I did growing up, and I also hope other kids with CP will work hard to chase after their dreams and their future and not let their disability hold them back.