CSH Foundation: Meet Sara!
Meet Sara Mapes!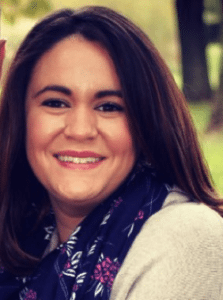 Sara is the Director of Sponsorships & Engagement at CSH Foundation.
Fun Fact:
Sara speaks Italian fluently!
Favorite CMN Event:
Her favorite CMN event is Dairy Queen's Miracle Treat Day. She says, "It's fun for me as a non-CMN fundraiser to get to step out of my normal role and meet/thank our CMN partners. It's a really great day filled with ice cream and smiles!"
Sara enjoys making events a "family thing." She documented her IHOP National Pancake Day above with her husband, Chip!
Why You Love CMN Hospitals:
"My favorite thing about CMN is the community it creates. We see a lot of children who have been through really trying times and being a part of CMN Hospitals gives them an opportunity to learn about and sometimes meet other kids who are living with some of the same challenges they face. It also promotes our kids interacting with members of the community who support them as they struggle to reach their fullest potential. Knowing a whole community of people have your back and care for you is what makes CMN so important and that's why it's my favorite thing!"