Blizzards in the Forecast!
Northern and Central Jersey, Blizzards are in the forecast for July 27, 2017 and the chance of miracle making is 100%!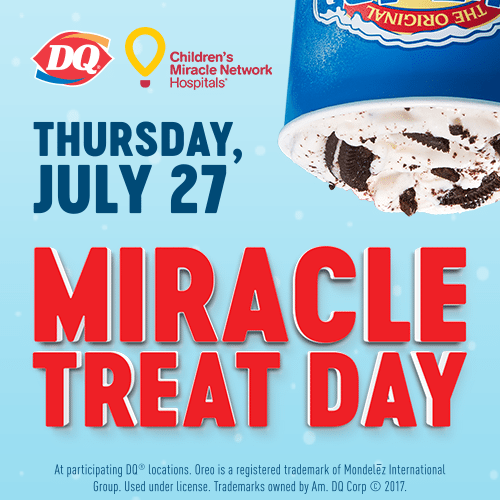 Dairy Queen's Miracle Treat Day is July 27, 2017 and you can give back to your local CMN Hospital when you buy a blizzard at a participating location where $1 or more from each Blizzard purchased will be donated to Children's Specialized Hospital!
See if the Dairy Queen near you is participating by visiting www.miracletreatday.com.
Interested in volunteering? Contact mbocciolatt@childrens-specialized.org to learn how you can get involved!
Special thanks to all of the Dairy Queens in Northern and Central Jersey who are already signed up to serve Miracle Treats! (See Below)
Allendale, Bayville, Butler, Clark, Clarksburg, Cranford, Edison, Emerson, Freehold, Hazlet (Rt. 35), Hazlet (Rt. 36), Irvington, Kenvil, Lincroft, Linden, Little Ferry, Mahwah, Manasquan, Montague, New Milford, Newfoundland, Newton, Northvale, Oakland, Old Tappan, Park Ridge, Passaic, Plainfield, Point Pleasant Boro, Rahway, Randolph, Red Bank, Ridgefield, Ringwood, Rochelle Park, Rutherford, Saddle Brook, Somerset, South Amboy, Sussex, Toms River, Union, Washington, Wayne, West Milford, Wycoff