The Nintendo Power Couple Visits CSH!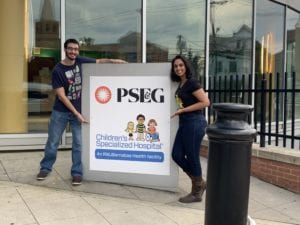 We were thrilled to get a visit from the Nintendo Power Couple at Children's Specialized Hospital this past Monday.  The couple, Danny and Felia, who met and married at our local Montclair State University, were visiting from Ohio.  They are among Children's Specialized Hospital's top Extra Life fundraisers and they accepted an invitation to take a tour of our inpatient facility in New Brunswick to see firsthand the impact of their efforts.
Despite now living in a different state, Danny and Felia chose to fundraise for Children's Specialized Hospital through Extra Life, not just because of their NJ roots, but also because they have a close friend who is a patient family down in our Egg Harbor Township location.  They have already raised $1,000 through a stream earlier in the year and plan to continue to fundraise on national Extra Life Game Day, November 2nd.
After their Children's Specialized Hospital tour, the local Extra Life Guild hosted Danny and Felia at Escape Room Center in Bridgewater, NJ, where they had the opportunity to meet Children's Specialized Hospital's patient family and Children's Miracle Network Hospitals Champions, the McGuire Family.  Together, the group escaped with time to spare!
Thank you to Danny and Felia for visiting and for all you do for our kids!!
Want to turn your love of gaming into miracles like Danny and Felia did?  Register today for Extra Life at http://www.extra-life.org/register