Round Up For The Kids at DQ This October!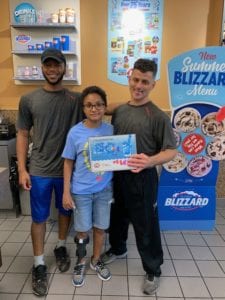 Round Up for the kids during October at a participating DQ® restaurants!
Participating DQ locations will be asking fans to round up their food and treat purchases to the nearest dollar during the month of October. All donations will go to Children's Specialized Hospital, your local Children's Miracle Network Hospital.
Round Up for the Kids is a great way to help children in New Jersey get back to being kids again. Funds raised provide our hospital the ability to treat every child who enters our doors. Last year, we treated over 37,000 children. And remember, every dollar, every cent stays LOCAL.
Customer change gathered during October can bring healing and happiness to so many local kids in need.
Thanks to the fans and franchisees of DQ locations in New Jersey!