Rite Aid Grants Children's Specialized Hospital $50,000!
Children's Specialized Hospital is so grateful for our partnership with Rite Aid. This April, Rite Aid and Children's Miracle Network Hospitals celebrated their 25th Anniversary edition of the seven week in-store balloon campaign. Over the past 25 years Rite Aid has collected and donated more than $93 million in support of helping kids in local communities.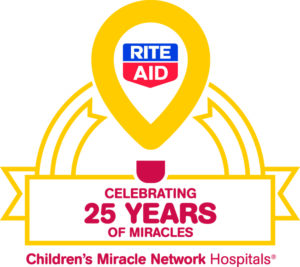 This October, Children's Specialized Hospital received one of the inaugural KidCents CMNH grants for $50,000. CSH was selected out of several Children's hospitals to be a grant recipient this year.
KidCents allows Rite Aid customers to round up their purchases to the nearest dollar and donate their change to a general fund that supports kid-focused charities. Wellness+ rewards members can log in to their online wellness+account at KidCents.com to elect to automatically round up all their purchases and donate the change to KidCents every time they shop at Rite Aid.
This grant will be supporting the Activity Connection program at Children's Specialized Hospital.
The Activity Connection programs at Children's Specialized Hospital include recreation, sports, and social activities for children and teens with special health care needs. The programs provide opportunities to make new friends, participate in physical activities, and enjoy new experiences.  All programs are led by Children's Specialized Hospital's therapists, certified program instructors, coaches, and trained volunteers who provide age-appropriate and safe activities in an inclusive and fun environment.  Our community recreation programs are available for patients and members of the public.
Thank you Rite Aid, for all of your support and for 25 years of fundraising for local Children's Miracle Network Hospitals.
If you are interested in registering for any of our programs, you can find more information here: https://www.childrens-specialized.org/programs-and-services/specialty-programs/activity-connection-recreation-programs