Miss America Organization sponsors A Show Of Gratitude!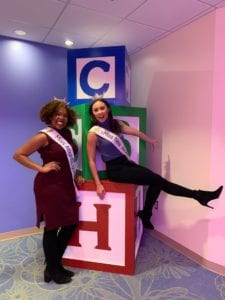 Family Fun Night is a monthly tradition at Children's Specialized Hospital and this month was sponsored by The Miss America Organization. Each month, the night is given a special theme, November is themed "Gratitude and Thanksgiving." This month, our kids were given many outlets to express their thanks to their parents, caregivers, siblings and friends. We began the night by serving a family-style pasta dinner, with hospital volunteers serving both our kids and their caregivers. Then it was time to celebrate!
The kids took the stage and performed their talents all night long! The room was filled with music, singing, laughter and cheers. All the kids also had the opportunity to express themselves through art therapy by painting canvases. Of course, we included our littlest kids, by creating molds of their hands and feet to give to their caregivers.
Jade, the current Miss New Jersey and Rachelle, the 2020 Miss Atlantic Shores joined our families and served as true ambassadors of confidence. The Miss America Organization embodies strong, smart, beautiful women and our kids got the chance to grow their confidence through spending the night with Jade and Rachelle. Jade was also able to share about her social impact initiative, healthy food choices for kids and rapped her original song "In My Belly." The kids will be singing that for weeks!
We are so thankful that the Miss America Organization supports Children's Miracle Network, to help give kids the encouragement to go after their dreams and reach their fullest potential.