Miracle Kids: Celebrity Series
Ali Stroker, the first-ever actor to perform on Broadway in a wheelchair, remembers playing with a pink teacup set at Children's Specialized Hospital. It was a bright spot for the little girl, who had a long and difficult road ahead of her.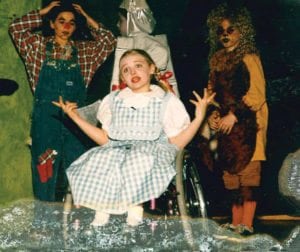 A car accident in October of 1989 left Ali, at age two, with a permanent spinal cord injury. She was admitted to Children's, then at the Mountainside location, paralyzed from the chest down. Before going home to "start a new life," as Ali puts it, her condition needed to be stabilized through occupational, physical and speech therapy. To this day, she remembers the sessions in our pool. The toddler also needed help adapting to life in a wheelchair.  "The people at Children's were so warm and kind to me and my family," she recalls. "They were even fine with my mom staying overnight."
The fierce little fighter made great strides at Children's, and was home in six months. She continued full speed ahead. She performed since age seven — acting, singing and dancing. Yes, dancing in her wheelchair!  "Art let me feel my full potential.  My voice was where I felt set free." Ali Stroker was the first person in a wheelchair to graduate from the prestigious NYU Tisch School of the Arts. As a member of the Best West theatre company, based in Los Angeles, she performed in the "Spring Awakening" musical, which enjoyed a five-month run on Broadway in the fall and winter of 2015. "It was a dream come true."  Today, at 28, she lives independently in New York City, acting and doing numerous speaking engagements for people with different abilities.
Children's Specialized Hospital had a major impact on her life in another way, Ali notes. "Growing up with a spinal cord injury, one big theme is becoming independent. But when you are differently abled, the reality is, you're going to need help and support. To have received this help and support from Children's at the very beginning, set me on this track in a positive way. That has helped me create a wonderful life."
Her next goal? "I want to do an arts theatre program for kids with different abilities!"