IHOP National Pancake Day is February 25! Eat pancakes, help local kids!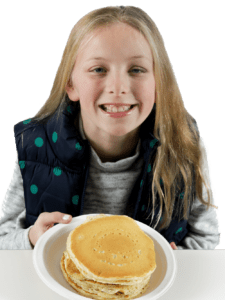 Visit participating IHOP locations on February 25 to celebrate IHOP's National Pancake Day and help kids treated at Children's Specialized Hospital.
It's easy to celebrate IHOP National Pancake Day! Here's how:
Visit a participating IHOP location on February 25 and donate to your local Children's Miracle Network Hospital, Children's Specialized Hospital in exchange for a free short stack of pancakes.
Invite your friends and family to join you and share that you're supporting your local children's hospital on social media using #NATLPancakeDay
Become a volunteer! Click here to find your nearest supporting IHOP Restaurant and sign up to be an advocate for our hospital.
You might think it's just a day to get a free short stack of delicious IHOP buttermilk pancakes, but it actually is a day that makes a BIG difference for kids treated at our hospital. Kids like, Leah.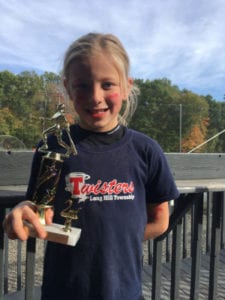 An outstanding third grade softball player known for her infectious smile and tenacity on the field, nine-year-old Leah was playing with her sister when she began to experience tingling in her fingers. Rushed to the emergency room, Leah remained in the hospital and was sedated for six days with no known prognosis.
Finally there was a diagnosis: a spinal cord stroke. This is extremely rare. Only 2% of all strokes originate in the spinal cord and they are almost unheard of in young, healthy children.
Over the next eight weeks, Leah received physical, occupational, and speech therapy. Pool therapy was her favorite, and it was in the water that Leah took her first steps following her stroke. Abby credits the doctors and therapists at Children's Specialized Hospital for Leah's miraculous recovery.
"Without the non-stop energy, smiles, and hard work of her therapists, Leah's story wouldn't be as successful as it is. We know we chose the right place for Leah."
Leah is doing well and is now on the road to recovery. She continues to receive outpatient therapy and is even back playing on the softball field. To learn more Leah's story and the families we serve, click here.
Why should you help?
Did you know that 62 kids enter a Children's Miracle Network Hospital every minute? That's more than 10 million kids every year. Donations raised at IHOP on National Pancake Day help fund critical treatments and healthcare services, pediatric medical equipment and charitable care. Since 2006, IHOP's throughout NJ have raised over $1.34 million for Children's Specialized Hospital. All the funds raised go directly to support our hospital benefit fund, allowing us to continue treating over 38,000 kids each year.
To thank you for helping kids on National Pancake Day, guests can enter to win pancakes for life or 250,000 other prizes by scanning the QR code on the table tent on February 25.
Thanks to IHOP for supporting our hospital and to all of your for enjoying free pancakes and helping kids!
See you on February 25th!