Good luck to the Miss New Jersey Class of 2018!
We are sending good luck wishes and sparkly vibes to our friends competing at the Miss New Jersey Pageant this weekend! We are so grateful for our partnership and for all that you do for our patients – from year round fundraising to volunteering to putting a smile on patients' faces!
To Miss New Jersey 2017, Kaitlyn Schoeffel, congratulations on an incredible year of service! We are grateful for your service!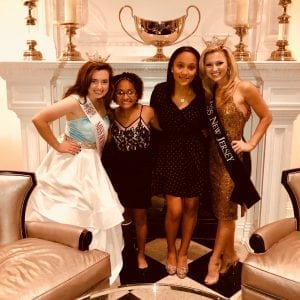 Kaitlyn attended several CMN Hospitals events benefitting Children's Specialized Hospital during her year of service. Above, she is pictured with Outstanding Teen titleholder, Alyssa Lego, and Ariana McGuire, CMN Hospitals Champion and her twin sister Briana. Below, Kaitlyn poses with the CSH sign at our hospital in New Brunswick, after touring the hospital and visiting with patients.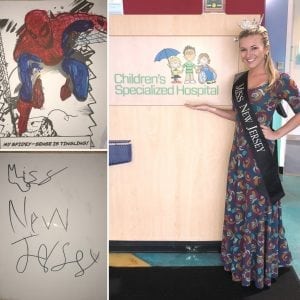 Children's Miracle Network Hospitals is the national platform of Miss America. Miss America serves as the National Goodwill Ambassador for CMN Hospitals during her year of service. Contestants, at the local, state and national level, are required to fundraise for CMN Hospitals and the Miss America Scholarship Fund in order to be eligible to compete, furthering their value of service. Miss America 2018, Cara Mund, pictured below, has visited CSH twice already this year!