Costco Wholesale and their sponsors support kids like Ariana
As the Costco Wholesale fundraising campaign comes to a close, we want to thank all of our 17 warehouses, 2 depots, 1 business center and 1 packaging center for their hard work and dedication to the kids at Children's Specialized Hospital.  Costco's support helps kids like Ariana.
After suffering a traumatic brain injury during an unimaginable accident, Ariana spent over three months at Children's Specialized Hospital's inpatient center.  She continued as an outpatient and, to this day, still receives some services.  But that is when she is not busy acing her driver's test, creating beautiful artwork or supporting her favorite Children's Miracle Network Hospitals campaign.  See the below picture for Ari cheering on Costco in 2012, 2014, 2016 and just last week.  She has been with Costco every year and represents the over 37,000 patients we treat!  On behalf of them all, we thank you!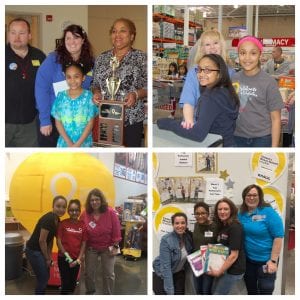 Another big shout out to ALL of the local businesses sponsoring Costco's campaign, including R. Poust Heating & Cooling, Inc., Pilkin Electric, Floors by Marlon, LLC, the Allan Lund Company and Grower Direct Marketing.