Children's Specialized Hospital Hosts 2nd Annual All-Partner Summit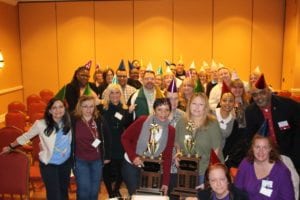 Nearly 200 Children's Miracle Network Hospitals partners converged at the Bridgewater Marriott to celebrate the $2.6 million they raised in 2016 for Children's Specialized Hospital.  The day featured break-out sessions including the Costco Campaign Kick-off, How to Create a Successful Fundraising Event, How to Make the Ask and Fundraising On and Off Campus as well as a luncheon and awards ceremony.  We were honored to have the President & CDO of Children's Specialized Hospital Foundation, Phil Salerno and the President & CEO of Children's Specialized Hospital, Warren Moore address the crowd.  Two of our patients also gave a special presentation.  Sonia Rita and her daughter Izzy told their story of rehabilitation at Children's Specialized Hospital when Izzy suffered from a spinal tumor at just two years old.  Gianna Trotter, our 2011 Children's Miracle Network Hospitals champion, who has been coming to Children's Specialized Hospital for 19 years due to a brain injury when she was just 1 year old, then sang a special song she wrote from her experiences.
It really was a magical event with representation from Costco Wholesale, Walmart, Sam's Club, Rite Aid, Dairy Queen, RE/MAX, Marriott, Dance Marathons, Greek Partners, Wawa, Miss America Organization partners, Extra Life Guild Executive Board members, local partners and more!  Special congratulations to the winners of our peer-nominated awards:
Awesome Associate: Randa Tolba, Walmart in Old Bridge, NJ
Children's Cheerleader:  Mary Ann Nolan, Costco Wholesale in Hazlet, NJ
Marathon Mover-and-Shaker:  Vrata Patel, Highlanderthon
Most FUN Fundraiser:  Mark Chesler, Sigma Chi Derby Days
Leadership Award: Dana Nicole Mauro, RE/MAX Ltd.
We look forward to making more miracles with our wonderful partners in 2017!