Celebrating New Jersey Credit Unions at NJCUL Convention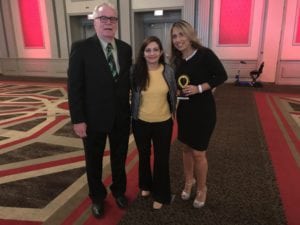 We were so honored to attend New Jersey Credit Union League's annual convention in Atlantic City! We had the opportunity to recognize the amazing work our credit unions did in 2016 for their 20th anniversary as a Children's Miracle Network Hospitals partner. Last year, we put a challenge out for 20 credit unions to support us in a new way, and 24 answered the call raising over $61,000. We were thrilled to be able to give special recognition to Elizabeth NJ Fireman's Federal Credit Union for being our lead fundraising credit union in 2016, raising over $15,000 through their support of Playball for Miracles. They were a big reason that 2016 was our record year in fundraising.
In keeping up the momentum for 2017, we were humbled to have three check presentations at the convention. Garden Savings Federal Credit Union's President/CEO, Lou Vetere, and Chief Sales Officer, Mike Powers, presented Children's Specialized Hospital with a $14,000 donation from their golf outing and year-round jeans days. Raritan Bay Federal Credit Union's President/CEO, Ron Behrens, and Vice President of Accounting, Mark Malinowski, presented a check for $2,857 from their jeans days and candy sales. Finally, Jersey Central Federal Credit Union's President/CEO, Chris Chichester, and Chief Financial Officer, Gennifer Starita, as well as two board members presented a check for $2,004 for their year round fundraising. We are so grateful to have such loyal partners that make our kids a priority. Their continuous fundraising efforts allow us to help our kids live to their fullest potential. Thank you to all of our credit union partners that make Children's Miracle Network Hospitals their charity of choice!