Bring Healing And Happiness To Local Kids Thanks To DQ!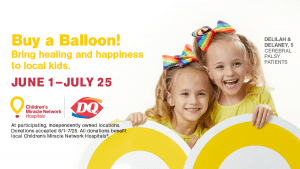 Cool off this summer with a sweet cold treat and donate to your local CMN hospital, Children's Specialized Hospital while you're at it! June 1 through July 25 you can purchase a Miracle Balloon at participating DQ locations to help kids treated at our hospital. Also, make sure to also mark your calendar for Miracle Treat Day happening on July 25.
DQ has been a proud partner of Children's Miracle Network Hospitals since 1984 and has raised nearly $150 million for local children's hospitals. Their support has brought healing and happiness to kids treated in our hospital in numerous ways.
Guests visiting New Jersey DQ locations supporting Children's Specialized Hospital, can purchase a paper Miracle Balloon to publicly pledge support and receive $2 or $5 in discount coupons good for food or treat on their next visit.
The DQ system's annual Miracle Balloon campaign caps off with Miracle Treat Day on July 25 where $1 or more from every Blizzard® Treat sold at participating DQ locations will benefit local Children's Miracle Network Hospitals.
Ways to celebrate:
Invite your friends and family to visit a participating DQ location to get your treat on!
Share your visit on social media using #MiracleTreatDay
Thank you Dairy Queen for all you do to help support our kids!